Stratum Group is a consulting firm dedicated to providing quality property assessments for geologic risk, contamination, and natural resource issues. Our environmental science and geology expertise combined with years of work in the Pacific Northwest have given us a strong foundation in understanding the local geology, history, environmental issues, and permit requirements.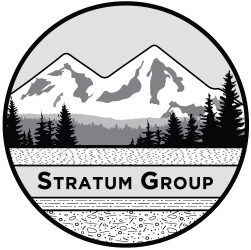 We regularly work throughout western Washington, but love to travel to new locations in the Pacific Northwest. Our clients include numerous community banks, non-profit land trusts throughout the northwest, private land owners, and developers.
We provide a variety of services including:
Environmental:
Phase I environmental site assessments.
Phase II environmental sampling and monitoring (soil, groundwater).
Phase III environmental cleanup solutions and project oversight.
Transaction screens and environmental record reviews.
Stormwater plans and sampling.
Solid waste permitting.
Lead inspection and risk assessments.
Geology:
Geologic hazard assessments (shorelines, steep slopes, landslides, river erosion).
Gravel pit evaluations (resource potential and marketability).
Geologic hazard mapping, critical areas code writing.
---
Stratum Group
2102 Young St. Bellingham, WA 98225
Copyright © 2023 Stratum Group.
All Rights Reserved.